Cordless Telephones
Provides cordless mobility and a rich feature set for employees away from their desks.
For the Cordless DECT telephone to take advantage of all 8 function keys and the full LCD display, use system software version 2.18 or higher.
Important points to understanding Cordless Telephones

Description
Cordless DECT Telephone
The Cordless DECT Telephone (P/N 730095) is the next generation mobility solution for the busy office. This new cordless telephone for DSX uses advanced DECT wireless technology for improved clarity and range. The Cordless DECT Telephone offer the same extensive DSX feature integration as its sibling DSX Cordless Lite II, such as Call Forwarding, Call Coverage, Hotline, and Voice Mail. Additionally, the new Cordless DECT has 4 more fully programmable function keys with LEDs (8 total!) for even greater mobile operability in a compact handset.
The enhanced LCD display has a full 24-character 2 line display with a 3rd line for unique call status icons. All the display guidance provided to DSX keyset users is now available on their Cordless DECT. This new mobility solution comes complete with a base unit that connects directly to a digital station port.
Additional features include:
Robust 16-hour talk time with 7-day standby using the provided Nickel Metal Hydride battery (2.4V-910 mAh).
AC Adaptor.
Handset charging cradle with a slot to charge a spare battery.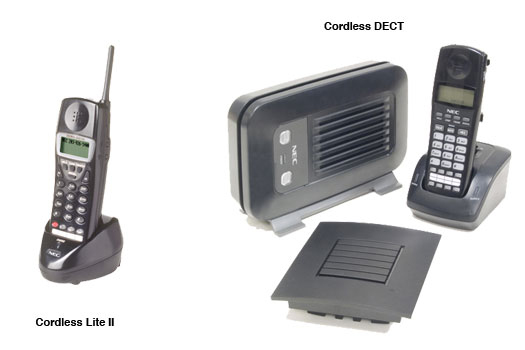 Cordless DECT Repeater
Use the Cordless DECT Repeater (P/N 730639) to extend the range of the Cordless DECT Telephone (P/N 730095). During installation, special software is used to "pair" one or multiple repeaters with a specific Cordless DECT Base Unit. This allows the user to walk through a facility and have their call "handed off" to one or more repeaters. The call is then automatically handed back to the Base Unit when the user returns to their desk.
Cordless Lite II Telephone
The DSX Cordless Lite II Telephone (P/N 730087) is a 900 Mhz digital narrow band FM cordless telephone that provides mobility, flexibility and convenience for those who spend much of the workday away from their desk. Fully integrated with the DSX system, the DSX Cordless Lite II Telephone offers many standard features such as Call Forwarding, Call Coverage, Hotline, and Voice Mail. Complemented by 4 fully programmable function keys (with LEDs), the DSX Cordless Lite II Telephone achieves a whole new level of convenience and mobility. An easy-to-read 16-character by 2-line LCD display (with four status icons), volume controls, a rechargeable Nickel Metal Hydride Battery Pack, and a handy belt clip round out the elegant and affordable DSX Cordless Lite II Telephone.