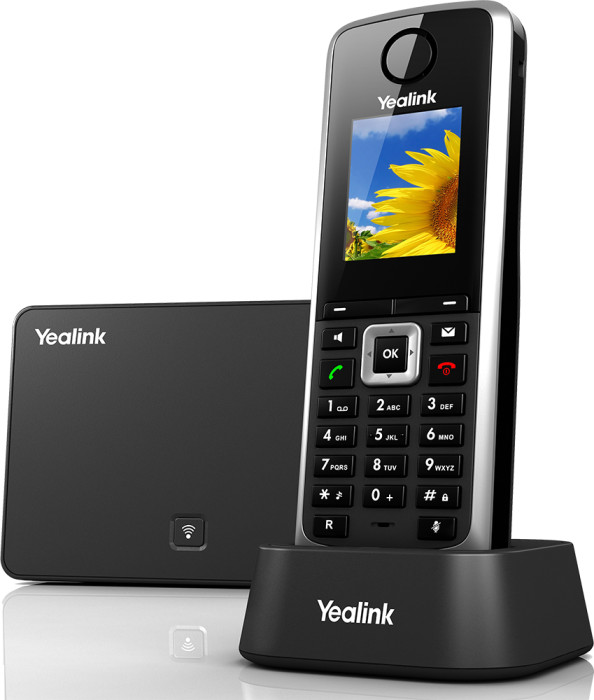 Yealink W52P is both SIP and DECT, providing you with a great combination of acronyms. The base stations connect to your IP network and register phones as SIP devices. This allows us to use them with the Zultys MX-250, MX-SE, MX-30, MXvirtual and Zultys hosted systems, as well as the Mitel MiVoice Business (3300 / MCD) and Mitel MiVoice Office (5000 HX/ 5000 CP/ 5200). You could also just register them with a SIP carrier if you just need a very small office or home office solution.
The wireless communications are using the DECT range, which is better than standard 5.8GHz cordless phones. DECT offers superior range (as much as 300′), lower power consumption for longer battery life, encrypted communications, and uses spectrum not occupied by other devices for clearer conversations.
Funny aside: DECT in the USA is called 'DECT 6.0' for the sole reason that American consumers had seen a steady progression of cordless products of higher and higher range – from 900MHz to 1.8GHz, 2.4GHz, and later 5.8GHz. While DECT operates at 1.9GHz frequency, there was concern that it would appear inferior to other, higher spectrum cordless devices. (Hat tip to Wise Geek).
Each telephone can connect to 4 base stations, and each base station can support 5 telephones. This allows you to put base stations around your office to expand the range of the telephone across multiple base stations, so you can wander around your office on the phone, looking very busy and important.
The handset has a color display and can do all your basic office phone functions like transfer, hold, conference and indicate if you have voicemails via the color display and interactive keys.
The unit takes a standard 3.5mm corded headset. This allows you to use those iPhone 3G ear buds you have lying around, connect to your wireless Yealink office phone, and get a wireless headset that can finally transfer calls and put calls on hold while you wander around. Because the Zultys system allows users to associate 4 phones with each user, you can assign a desk and cordless phone to VIPs and operators that have a need to get up and move throughout the day. Zultys eliminates the confusion of having multiple extension numbers for the same user by assigning multiple phones to users.