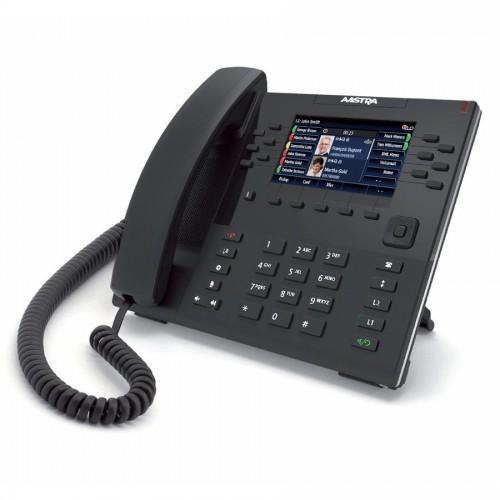 Four cool new phones and a new sidecar (button box) are out now for your lucky users. The Mitel 6863i, 6865i, and 6867i are SIP phones out today, with the 6869i available soon.
Pricing for the 6863i starts at $99 list price, increasing to $179 for the gigabit 6865i and $229 for the full color, large display 6867i gigabit phone. Current Mitel gigabit phones are, ahem, a bit more expensive, so this is a game changer for our customers. If you are considering moving into a suite with one Cat 6 or Cat 5e cable per desk, with the other cable is Cat3, like most offices in Los Angeles and Orange County, your choices are bad. Currently, customers have to choose between $300+ gig phones on gig PoE switches, or $200 10/100 phones plus a second set of PoE switches for the phones in addition to gigabit switches for user machines. With a $179 gigabit phone, moving to a single converged network is a no-brainer.
Besides having a compelling price, these phones are thin with small footprint. Turned sideways, the base of the phone is not more than an inch and a half thick. A complaint we hear about the Mitel 5300 series phones and the Polycom VVX series phones is that they take up a lot of desk space – these phones are from Europe, so naturally they are thin and stylish.
The 6865i, 6867i and 6869i phones can use industry standard EHS (Electronic Hookswitch) adapters. You should care, because we can use wireless headsets from Plantronics, Sennheiser and GN Netcom with these phones without a physical hookswitch lifter contraption.
The 6863i is an ideal value telephone. This 2-line SIP phone sports a 128-by-48px display, HD Audio and two 10/100 ports. As with all Mitel IP phones, it supports XML for customization. New to Mitel phones is a 4-way navigation pad familiar to users of traditional video game controllers.
Mitel's 6865i is destined to be the Toyota Camry of office telephones – ubiquitous, reliable, flexible, with charming looks. It is an inexpensive ($179) Gigabit phone, a rarity in the market. Supporting 9 calls as a SIP phone, this phone has a 128-by-8px display, dual gig ports, 8 custom keys in addition to 11 feature keys, a 4-way Nintendo directional pad, and volume rocker. Electronic Hookswitch support is included, as is HD Voice audio.
Mitel's 6867i is designed for companies that are successful. Successful companies know that dropping another $40-50 on a vastly superior phone for their users shows their staff that they care. It also shows their customers that they (a) have good taste and (b) are in it for the long haul.
In addition to all of the goodies you would find in the 6865i like wideband HD audio, EHS, dual gigabit ports, low power consumption and handsome looks, the 6867i has a 3.5″ color QVGA screen, dual speakerphone microphones for exceptional audio, and an option for a detachable keyboard, expansion button modules (up to 3) and 6 programmable on-screen softkeys.
Mitel's 6869i improves on the 6867i's perfection. This phone doubles the number of programmable softkeys from 6 to 12. It also offers an expanded 4.3″ color QVGA screen. Like the phone's little brother 6867i, this model of SIP phone features an optional magnetic keyboard, dual gig ports, optional expansion modules, wideband HD Audio, low power consumption, and advanced audio processing with dual microphones.
The Mitel 685i is a sidecar for the 6867i and 6869i telephones, supporting 74 programmable stations across 3 virtual pages of buttons. Automatically updating button labels on a color display, this is an ideal device for a busy operator, power user, lobby phone as a directory, phones without attached computers nearby, or contact center agents and supervisors.